Congratulations with your new Consibio Solution! your gateway to efficient data collection and visualization.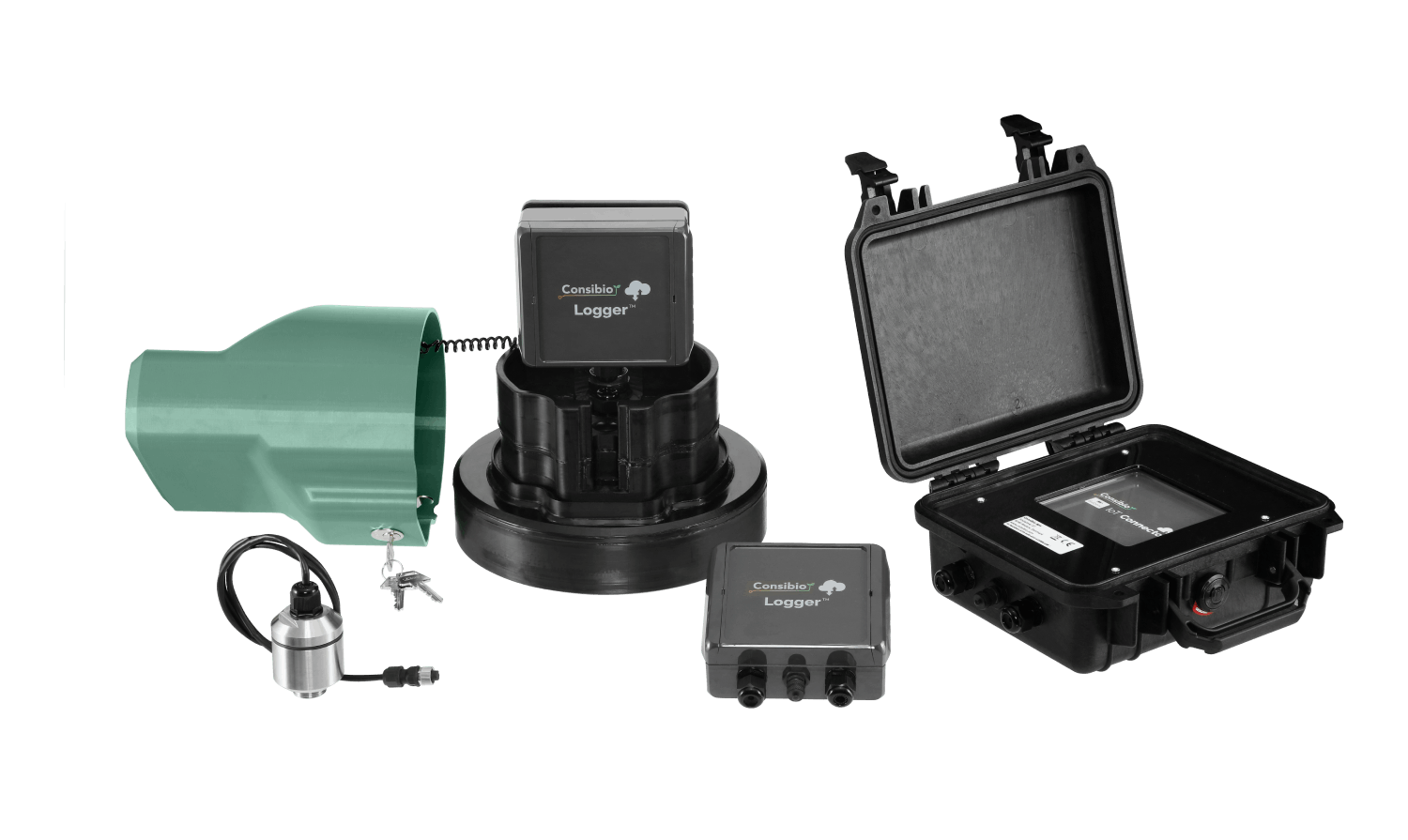 This step-by-step guide will walk you through the essential process of configuring your Consibio Logger for a seamless experience. Make sure you have a PC or smartphone and a Consibio Logger at hand before you begin.
Notice: This guide assumes you have received your new equipment for the first time, but a Consibio Cloud project has been given to you. If you haven't received information on your user account and/or cloud project, please refer to this Guide.
Let's get started:
Step 1: Power your equipment
Start powering your Consibio equipment with the 230V AC power supply.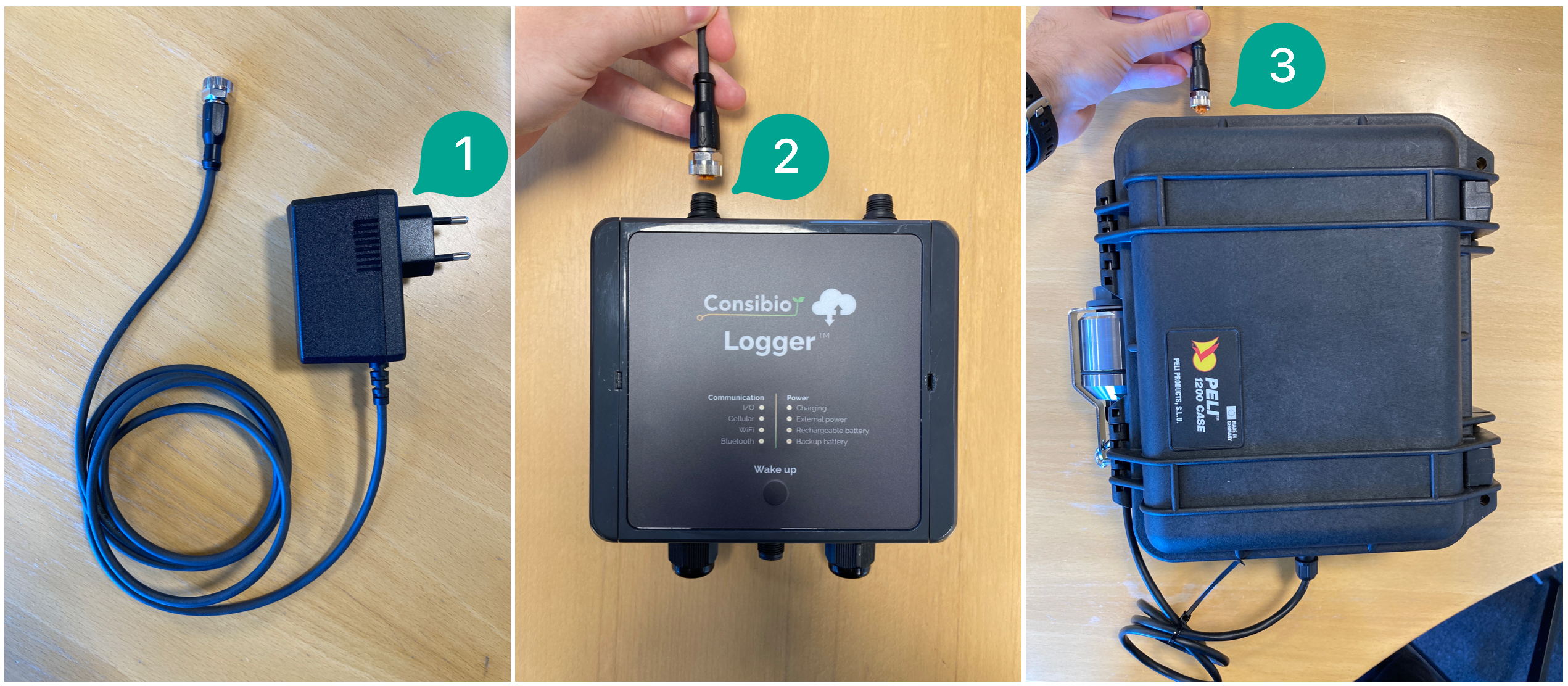 Connect the 230V AC to a power outlet
Consibio Logger: Connect the 5-pole M12 connector to the top left side of the Logger
Rugged Case: Connect the 5-pole M12 connector to the top left side
This will automatically charge the batteries in the Consibio Logger / Rugged Case, and make sure that the Logger is sending data every minute.
Step 2: Access your Cloud Project
Go to your PC or smartphone and log into Consibio Cloud with your user credentials.
Access the prepared Project by clicking on the project name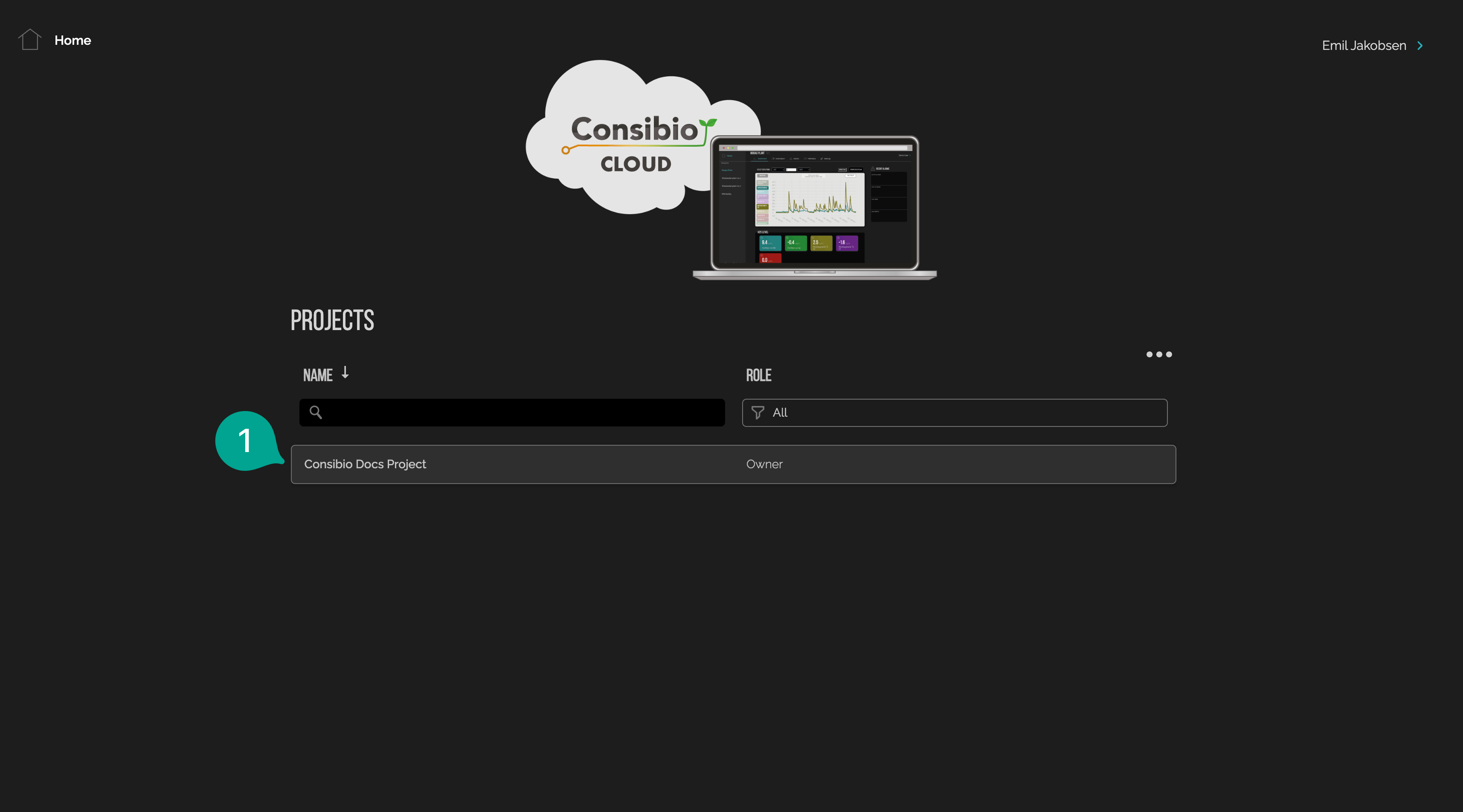 Step 3: Interact with the Dashboard
Here you will be greeted with a Dashboard overview of the data from you equipment, similar to the image below.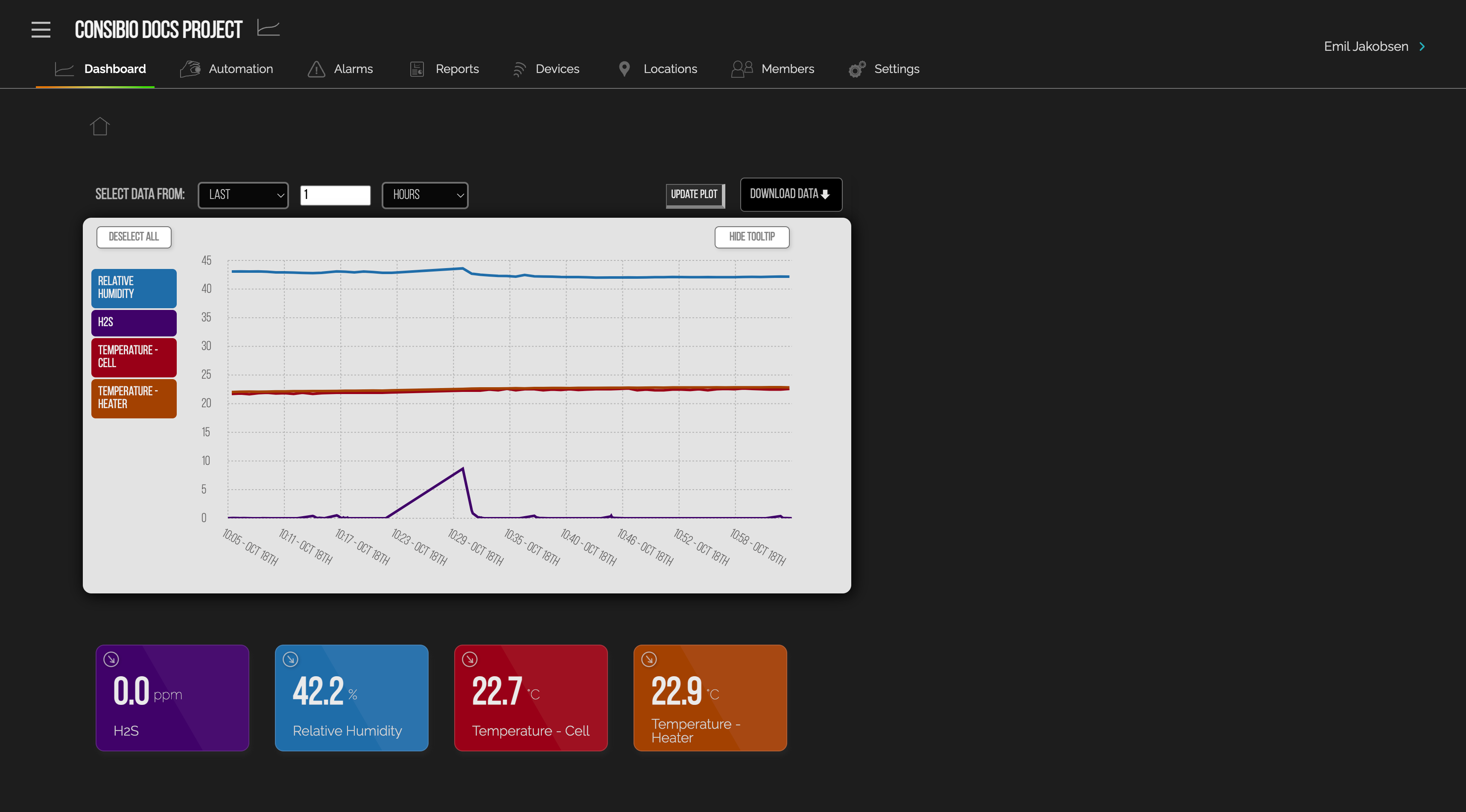 Data from sensors will enter the chart / graph continuously, depending on the max offline and measurement interval.
For a comprehensive guide to navigating and personalizing the dashboard, please visit the Dashboard section of the help center:
Step 4: Configure Max-offline and Measurement Interval
Before the equipment should be deployed in the field, it is a good idea to adjust the device settings by configuring maximum offline time and measurement interval.
These settings ensure optimal balance between data accuracy, battery lifetime and timely notifications.
Navigate to the Devices tab
Choose the device which should be adjusted
Adjust the Max offline time, i.e. the time between device check-ins
Adjust the Max measurement interval, i.e. how often the sensors should measure data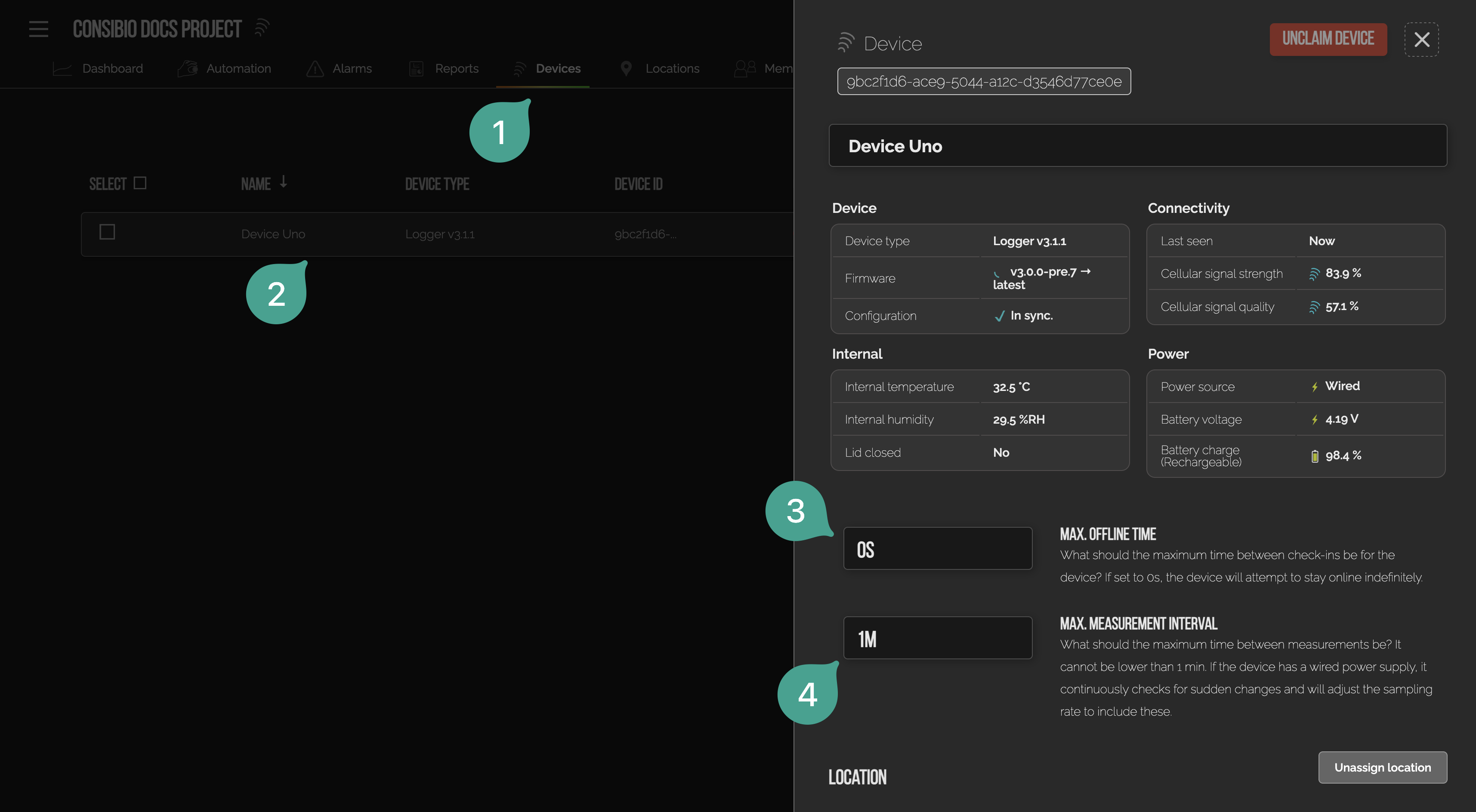 Step 5: Deploy in the field
All relevant settings are now adjusted and you are almost ready to deploy. If your devices are meant to be battery powered, it is always a good idea to have maximum battery charge before deploying.
Therefore, we recommend that the equipment is connected to the power supply for at least 8 hours before deployment in order to charge the batteries to maximum. Once fully charged, the equipment should now be ready to deploy in the intended environment.
By following this step-by-step guide, you'll be well on your way to harnessing the power of Consibio Cloud for seamless IoT project management and data-driven insights. Happy exploring!