Sensors, actuators and other 3rd party devices are interfaced to the Consibio Logger through the use of a plethora of expansion boards, that makes the modular datalogger compatible with almost any sensor and signal standard on the market.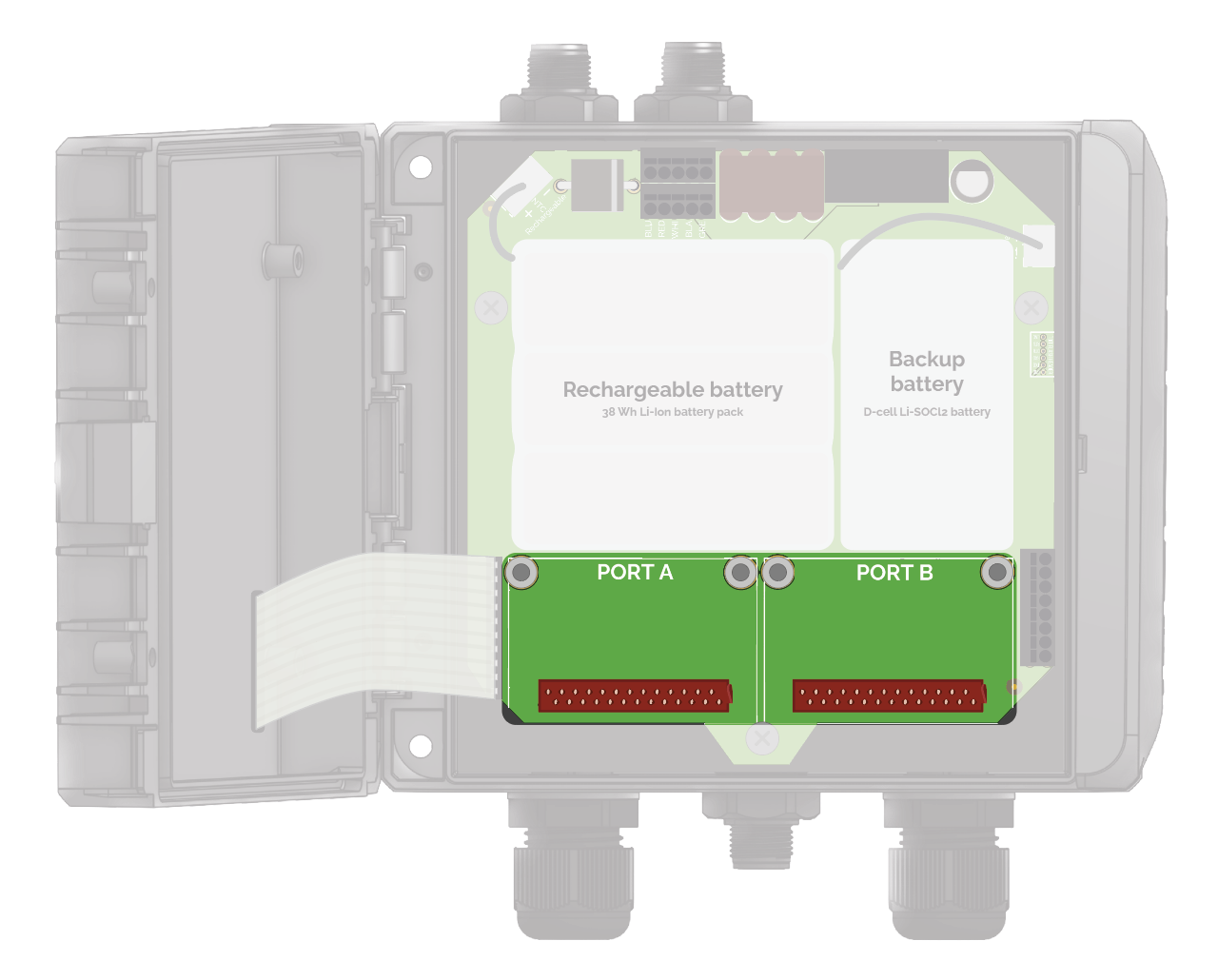 The Consibio Logger has two expansion ports (port A and port B) where all expansion boards can be used and combined as desired. The table below outlines a selection of the currently available expansions, but not all.
Consibio constantly develops the selection of expansions and also develops to order, so if you have specialized requirements, reach out at contact@consibio.com to discuss the options.
Expansion board
Description
RS485
Allows for communication with external sensors and devices over RS485 -based serial busses such as Modbus RTU or Profibus. Can power devices via 12V or 24V supplies (max 75 mA).
RS232
Allows serial communication with various RS232 devices.
SDI-12
Allows serial communication with SDI-12 devices. Includes 12V supply output for sensors (max 75 mA).
2x 4-20mA inputs

Sampling of two different analog 4-20mA signals. The expansion can work both as a passive (loop sourced externally) and active input (loop sourced by the expansion) with a simple change of sensor wiring.

Both a 5V, 12V and 24V loop source is available on the expansion board for powering the loop and/or the sensor.

Analog outputs:
4-20mA output + 0-10V output

Supplies two separate variable analog outputs to external systems or actuators:

0-10V: Variable 0-10V output. The output is high impedance and cannot be used to power anything but only as a signal.

4-20mA: Variable current loop output up to 20mA. The output is active and is supplied by an internal 24VDC supply

Internal barometric pressure
Measures the barometric pressure internally in the Consibio Logger. Can be used for pressure compensation of absolute pressure measurments.

Range: 0.3 to 1.25 bar
Resolution: Better than 0.002 mbar
Accuracy: ±0.3 mbar
Long term stability: ± 0.1 mbar pr. year
Strain gauge interface for load cells
Allows direct, low power sampling of a strain gauge for force and weight measurements.
Pt100 temperature expansion
Expansion board for direct connection of raw Pt100 probes for accurate temperature measurements without the need for external transmitters.
Thermocouple
Expansion board for direct connection of raw thermocouple probes for temperature measurements in more extreme conditions without the need for external transmitters.
Solid State Relay
Expansion board with an integrated Solid State Relay in either an AC or DC version to switch on/off external loads. The DC-version can also be used as a potential free contact to control external equipment.
LoRa (coming soon)
Allows the Consibio Logger to send datapoints directly to an external LoRaWAN gateway without the need for cellular connectivity.
Satellite (coming soon)
Allows transmission of datapoints to Consibio Cloud through a satellite connection, thus providing connectivity in areas like the polar regions where cellular networks are not available.