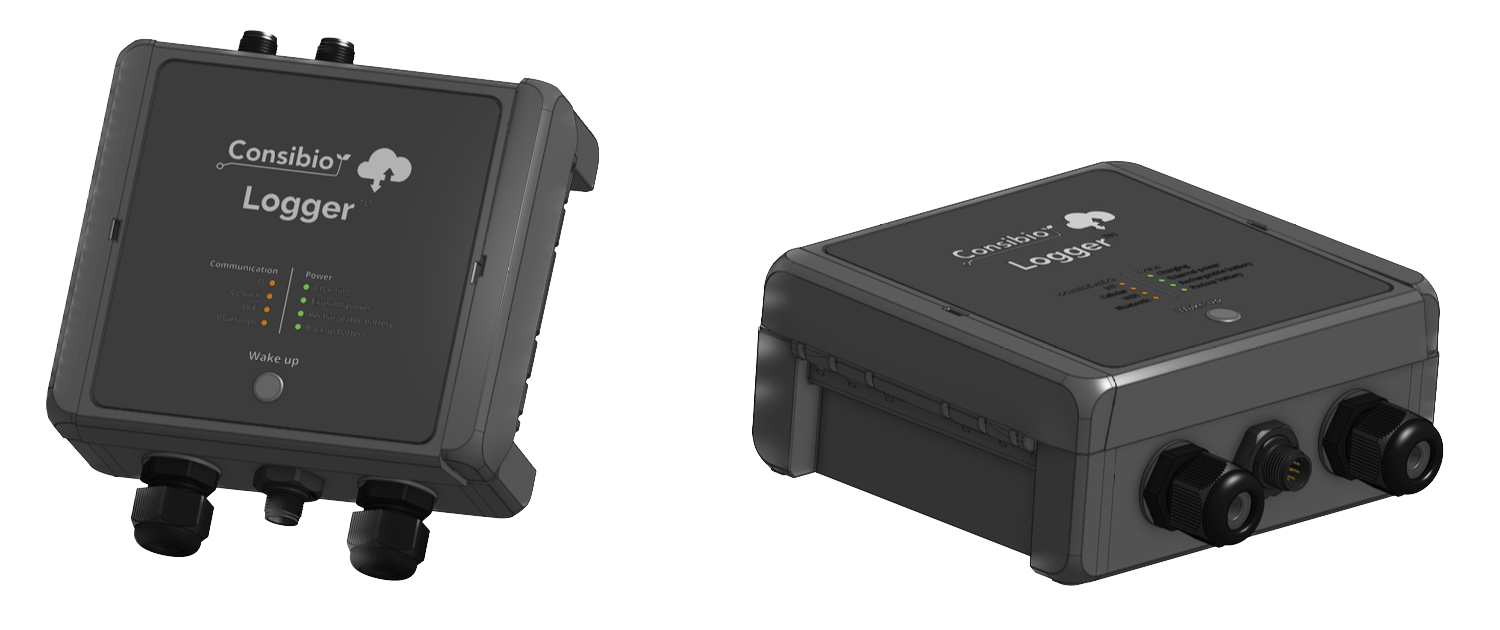 Overview
Features
Generic datalogger and control unit capable of wired and battery-driven operation for several years.
Completely modular design offers a very flexible solution.
Using the newest 4G and 5G standards, it provides connectivity where conventional units cannot.
Secure-by-design: Every communication link to and from Consibio Loggers are encrypted and authenticated using unique certificates for each Consibio Logger.
Applications
Remote monitoring of various parameters within ground water, district heating, wastewater, or other remote areas.
Monitoring and control of distributed machinery.
Modular, plug-and-play setup for R&D applications.

Description
Consibio LoggerTM is a generic and modular industrial datalogger capable of collecting and sending sensor data to Consibio Cloud (or self-hosted endpoints) using the newest wireless technologies in a plug-and-play setup.
Two expansion ports inside the datalogger makes it capable of interfacing almost all known industrial digital and analog signal standards such as 4-20mA, 0-10V, relay outputs, RS232, Modbus RTU, Modbus TCP, Profibus and many. The datalogger can be completely configured in Consibio Cloud using drag-and-drop interfaces without any programming.
The datalogger has an internal battery bank consisting of both a rechargeable Li-Ion battery and a backup Li-SOCl2 cell and can be externally powered and recharged from a wired 24V supply or a solar. The smart power design ensures that the datalogger automatically selects the power source and seamlessly switch when needed thus providing an internal UPS (Uninterrupted Power Supply) and can run for years on battery.
Specifications
Overall
Parameter
Value
Expected lifetime
+10 years
Guarantee
2 years
Connectivity

WiFi:
2.4GHz (802.11 b/g/n)

Cellular:
LTE Cat-M1
NB-IoT
(SIM included)

Optional (using an expansion board):
LoRaWAN.
Satellite

Standards
DS/EN 61326-1:2013
Cellular
One of the most crucial parts of remote monitoring is a robust connectivity because it ensures that data is transmitted seamlessly and without interruption, allowing for real-time monitoring and analysis. Unreliable connectivity can result in lost or delayed data, which can significantly impact the effectiveness and quality of remote monitoring systems.
We have solved that by using unbranded SIM cards that operate across:
700+ vendors
180+ countries
in combination with an algorithm running on the datalogger, that periodically scans for the network with the best coverage. This means, that if one vendor/network provider does not provide proper coverage or is temporarily out of service at the location of the datalogger, it will automatically detect it and select another network – and you don't have to do anything.
This greatly reduces the risk of insufficient connectivity. Furthermore, all cost for SIMs, data etc. is included in a Consibio Cloud subscription.
Mechanical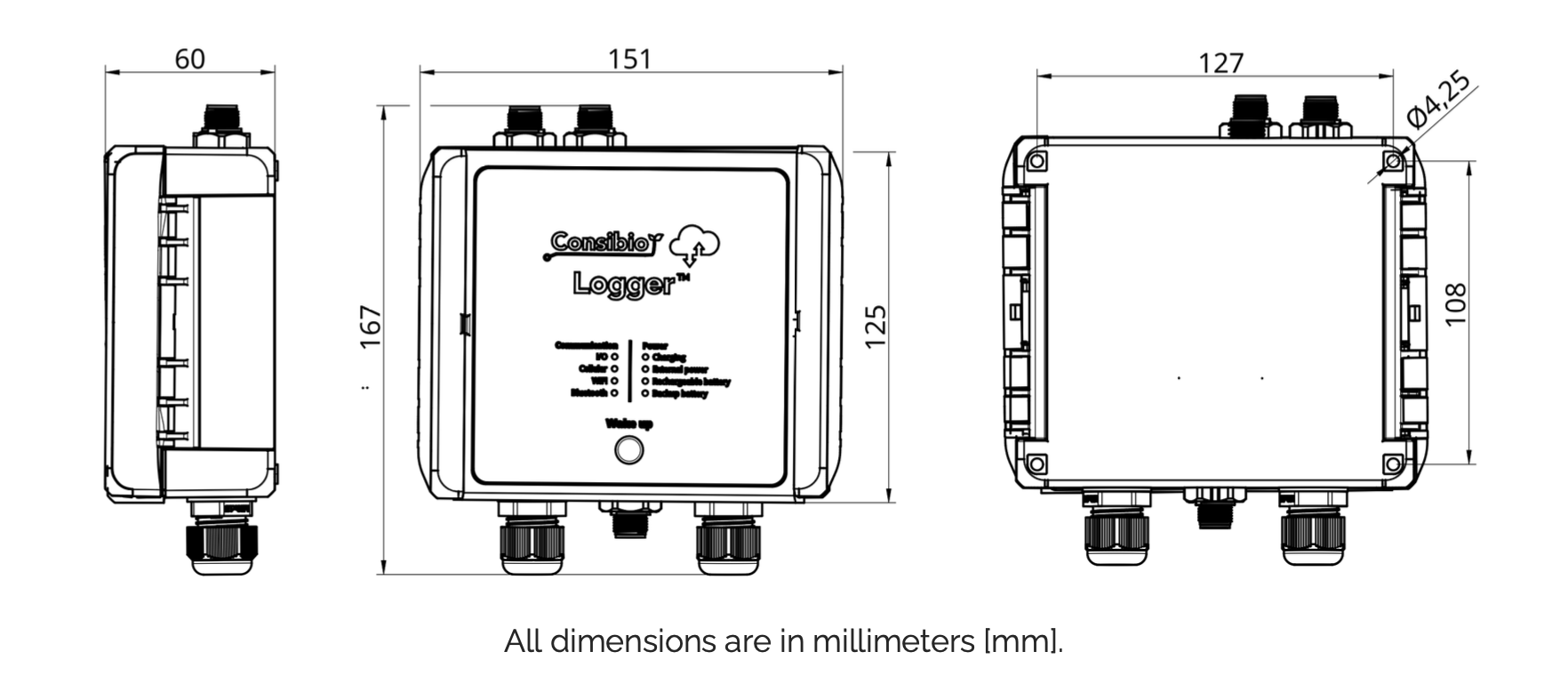 Parameter
Value
Operating conditions
-20°C to +50°C
0-100% RH
Dimensions
Length: 151 mm
Width: 125 mm
Height: 60 mm
Housing material

Polycarbonate (UV and weather resistant). All components used are at least IP67-rated

Enclosure

The enclosure is made completely of polycarbonate, making it UV and weather resistant and suitable for harsh and possibly corrosive environments.
A hinged lid can be opened with a flat screwdriver and gives access to the electronics for maintenance, battery replacement or similar.

Buttons and local interaction

The datalogger has a single "Wake up" button on the front panel. When the datalogger is in low power state (powered by a battery), a click on the button will wake the datalogger up immediately, whereafter it will display its current status on the LEDs and send collected datapoints to the backend whereafter it goes back to sleep.

Antenna

An internal, flexible antenna Is mounted on the bottom side of the hinged lid ensuring both antenna protection and a good signal. On request the dataloggers can be delivered with an external IP67-rated antenna if installation in metal enclosures is required.

I/O terminals

Power:
Two 5-pin M12 connectors at the top of the datalogger for 24VDC wired power supply (), connection of solar panel and daisy-chaining of several Consibio Logger's.

Sensor/actuator connections

One 8-pin M12 connector at the bottom of the datalogger for plug-and-play connection of Consibio's catalogue of pre-configured sensors.
Two M16 gable glands at the bottom for entry of cables with pig-tail wires.
Two expansion ports within the datalogger allows a completely modular approach to connecting various signal standards.
Electrical
Consibio Logger has two 5-pin M12 plugs on the top for power in- and output.
Up to three dataloggers can be daisy-chained by connecting Power Out of one dataloggers to Power In of another and thus be supplied by the same power supply.
Sensors, actuators, and other I/O equipment can be connected through one of the two cable glands at the bottom or using the 8-pin M12 plug for connection of Consibio's catalogue of preconfigured sensors.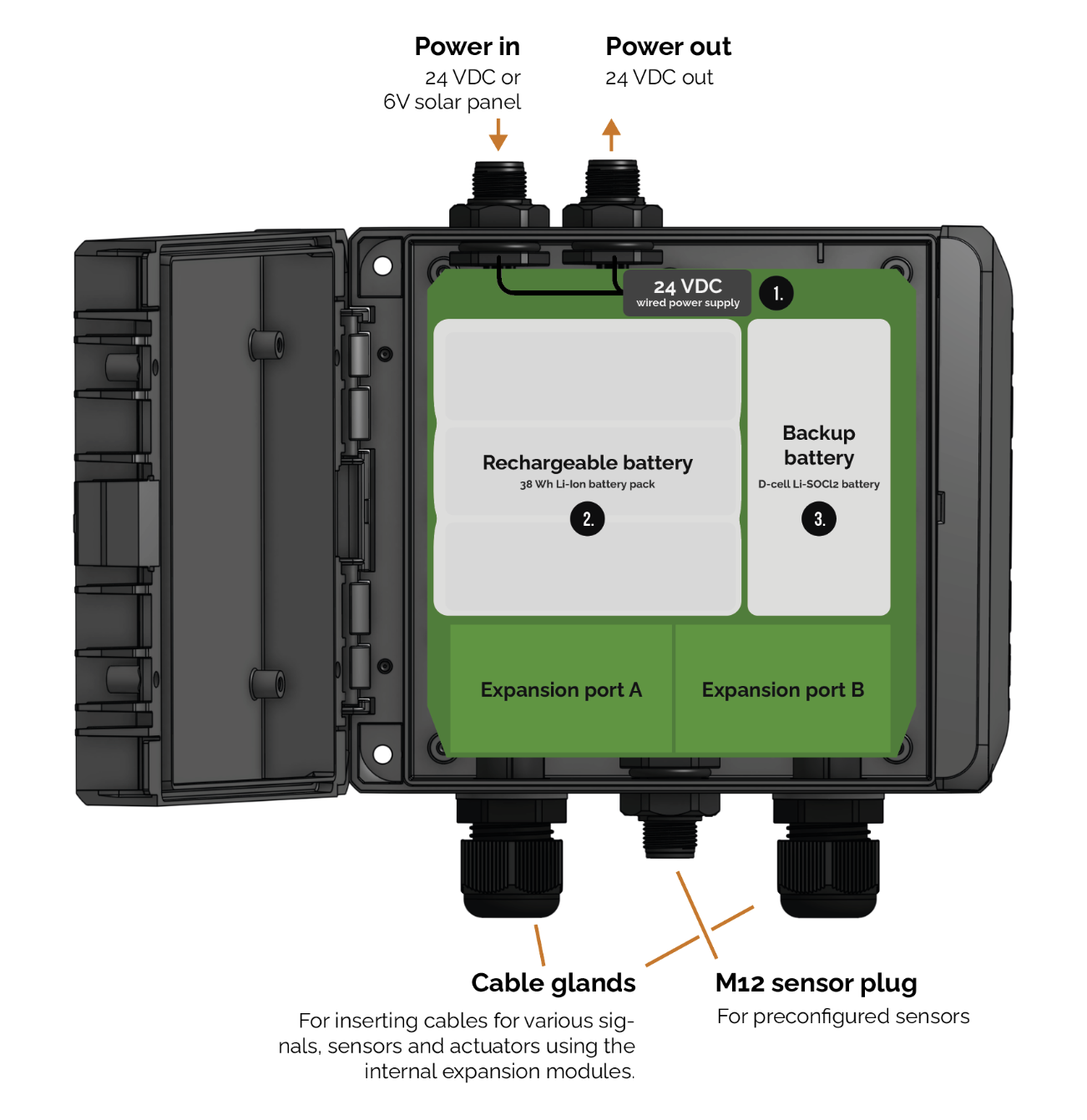 Power supply
Consibio Logger has several built-in power supply options that work as a series of automated fallback options and are used in the following order of preference:
Wired supply (24VDC or 6V solar panel):
A 230VAC to 24 VDC power adapter can be used to power the datalogger through the first 5-pin M12-plug. A 6V solar panel can be connected to the same plug for solar power. When one of these power sources are available, they will power the datalogger directly and recharge the Li-ion battery pack at the same time. The direct powering capability ensures that the battery pack is not constantly charge cycled and thus significantly prolongs the battery pack lifetime. A complete recharge takes approx. 12 hours. Internal temperature measurements ensure that charging only happens at temperatures between 0°C to 40°C.
Rechargeable Li-ion battery pack:
When a wired supply is not available the datalogger will automatically switch to use the large, internal 38Wh Li-ion battery pack. This battery is automatically recharged when a wired supply is available.
Backup battery:
Finally, if a wired supply is unavailable and the Li-Ion pack is depleted, the datalogger will use the (non-rechargeable) backup battery. The backup battery is a 60Wh

primary Li-SOCl2 D cell type with very low self-discharge and is functional for 10+ years if not in use.
This means that when 24V or solar is available, this will be used and at the same time recharge the battery. If it becomes unavailable (due to low sun or a power outage), the datalogger automatically switches to the rechargeable battery. Only when this is depleted, will the backup battery be used. The datalogger automatically reports the power option in use which makes it possible to set up alarms in Consibio Cloud, whenever the battery options are activated.
Power consumption and battery lifetime
When the datalogger is not active, it goes into a deep sleep mode with very low power consumption. Each time the datalogger takes a measurement, performs I/O operations, or communicate wirelessly, the power usage increases significantly, but only for a very short period.
The effective battery lifetime is therefore largely dependent on the measurement interval (how often data from sensors are sampled) and the transmission interval (how often the datalogger sends accumulated datapoints to the backend). These can be configured individually for each datalogger.
The typical power usage during deep sleep, measurement and wireless communication is outlined in the table below. These numbers should be considered indicative, as they can be influenced by several external factors. For example, the typical time used for wireless transmission can be prolonged, if the signal coverage in the given area is very poor and self-discharge of the battery packs is affected by temperature. Likewise, the power usage during measurement is directly influenced by the connected sensors if they are powered by the datalogger.
Action
Power usage [mW]
Typical time
[s]
Total energy consumed pr. action
[mWh]
Deep sleep
0.5
Depends on measurement and transmission interval.
Depends on measurement and transmission interval.
Measurement
100
5
0,14
Wireless communication
400
30
3.33
Based on the above power profile, discharge curves of the rechargeable and backup battery is shown below and two different measurement and transmission intervals, assuming that no recharge takes place in the whole period.

Power source and operational state
Depending on the power source and battery state, the datalogger automatically transitions between two operational states:
Low power state: The datalogger will remain in deep sleep for as long as possible to preserve battery life, but it will always respect the configured measurement and transmission intervals.

High performance state

: When the datalogger has a wired power supply and the rechargeable battery pack is completely recharged, the datalogger will transition to a high-performance state, where bandwidth and latency is prioritized before power consumption. In this state, the datalogger can send datapoints every 5 seconds to the backend with only a couple of seconds of latency (depending on coverage).
Internal sensing and monitoring
The datalogger monitors several parameters internally, which are automatically reported to the backend:
Internal temperature and humidity inside the enclosure: The Consibio Logger has a built-in temperature and humidity sensor. This makes it possible to remotely monitor, that the internal electronics are not exposed to conditions outside the recommended ranges. The humidity sensor also ensure that risk of condensation can be registered and alerted to the backend before the electronics are affected to ease the troubleshooting process.
Tilt, orientation, and acceleration: The datalogger periodically monitors the tilt/orientation and reacts to sudden movements. This makes it possible for the datalogger to send an alert to the backend if it is moved or dropped. This can be used for both access control monitoring and to ensure that the datalogger is physically unaffected by external factors such as wildlife or collision accidents.
Battery gauge: The datalogger continuously monitors the actual state of charge of both the rechargeable battery and backup battery. This is used to monitor battery state from the backend and generate alerts when it is almost depleted, but also to alter operation to prioritize power over performance in situations, where it is needed.
Expansion boards and I/O connections
Sensors, actuators and other 3rd party devices are interfaced to the Consibio Logger through the use of a plethora of expansion boards, that makes the modular datalogger compatible with almost any sensor and signal standard on the market.
The Consibio Logger has two expansion ports (port A and port B) where all expansion boards can be used and combined as desired. The table presented in expansion boards overview outlines a selection of the currently available expansions, but not all.
Consibio constantly develops the selection of expansions and also develops to order, so if you have specialized requirements, reach out at contact@consibio.com to discuss the options.
Rugged Case for Consibio Logger
The Consibio Logger can be supplied in a rugged enclosure designed for the harshest environments with built-in mounting options for a compatible solar cell. The rugged case simplifies installation and increases robustness for requiring applications.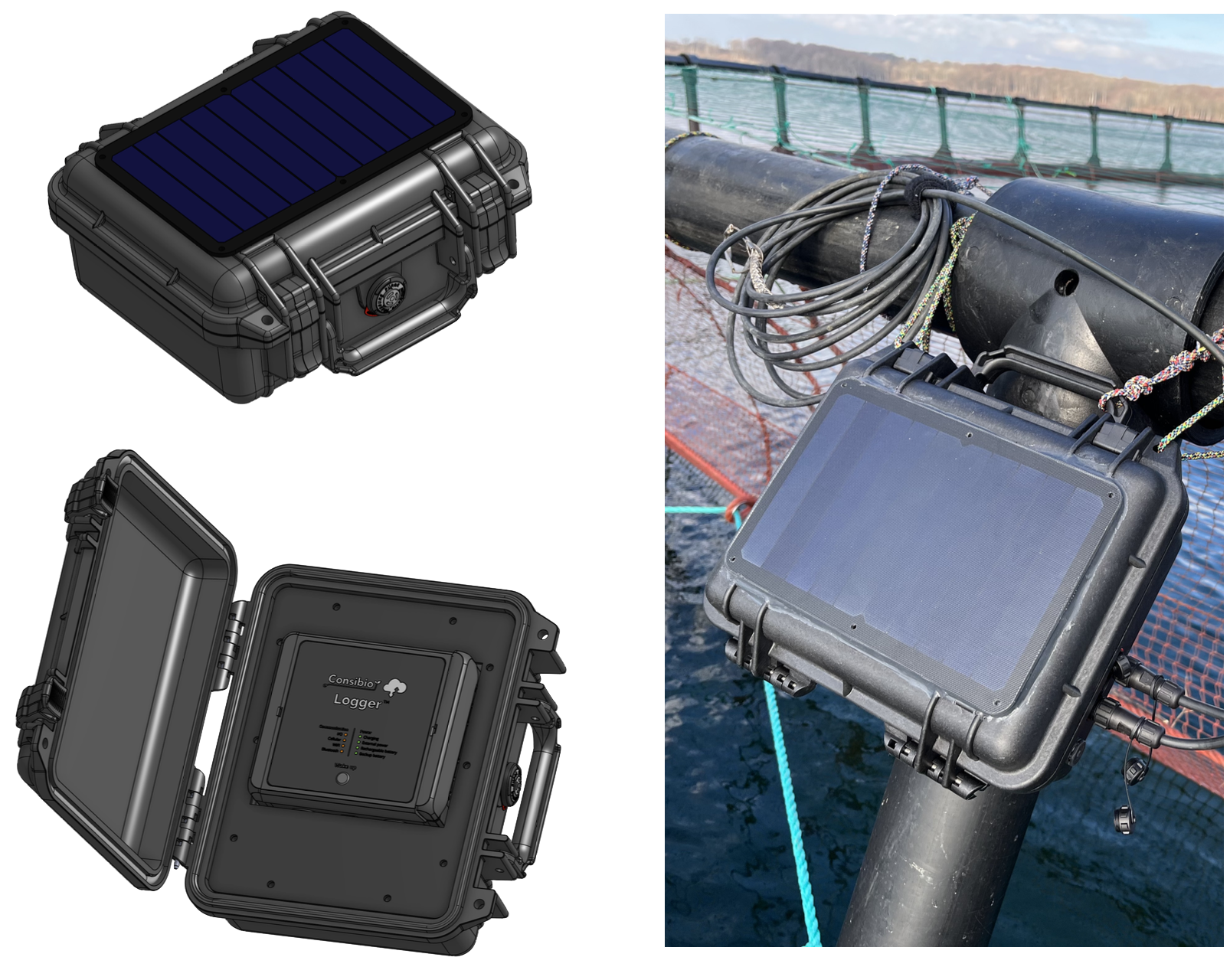 Dimensions