The Locations tab in Consibio Cloud is a powerful feature that opens up a map view where you can monitor and manage the locations of your Consibio devices.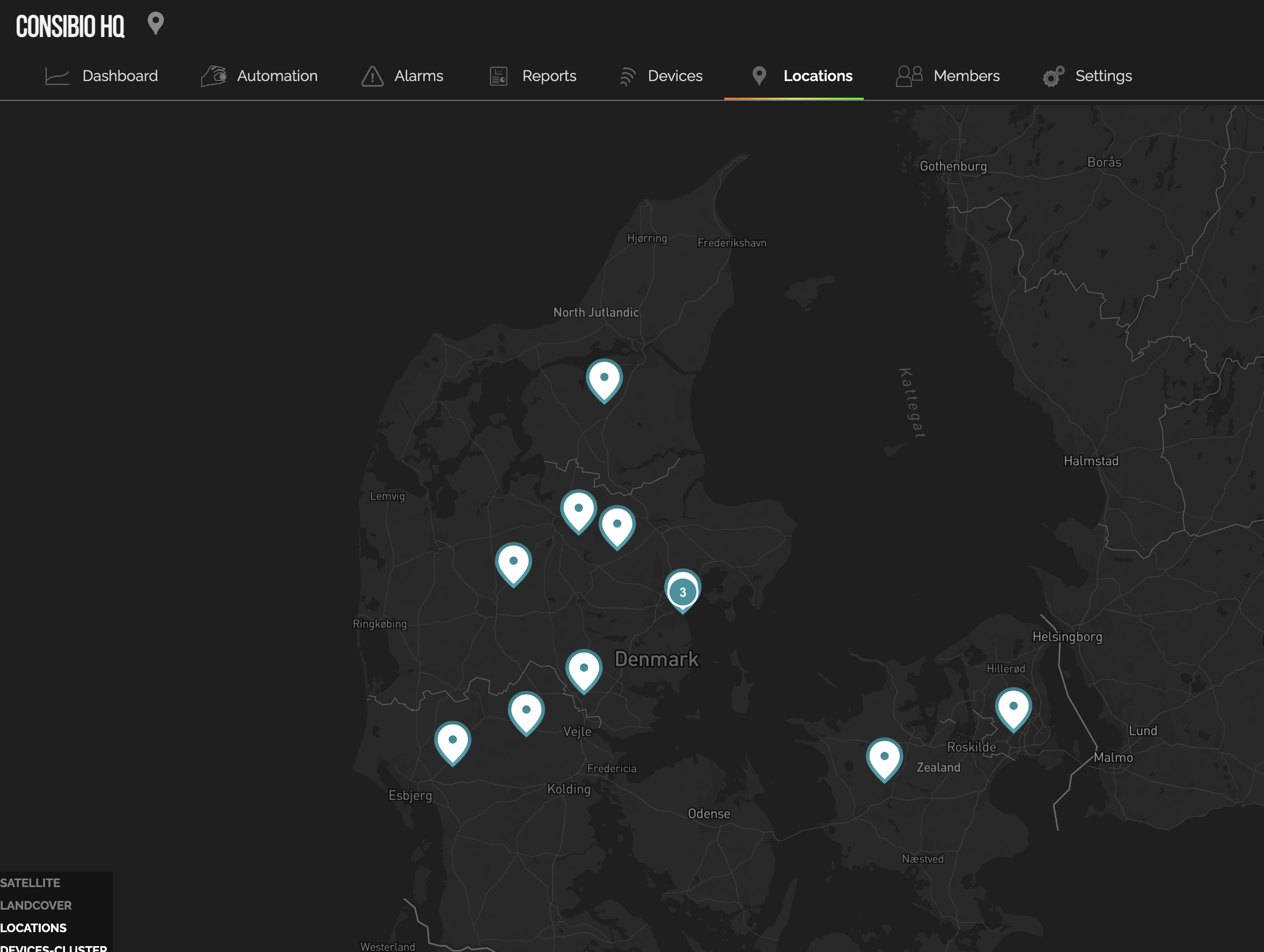 Follow this step-by-step guide to make the most of the Locations tab:


Step 1: Navigate to the Locations Tab
Log in to your Consibio Cloud account.
Access the Locations tab in the main menu.


Step 2: View Device Locations on the Map
Any Consibio devices added to the project will appear on the map with approximate locations calculated using cellular signal triangulation.
Triangulation via cellular signal involves measuring the signal strength and timing from multiple nearby cellular towers to estimate the device's location. By analyzing the angles and distances, the system calculates an approximate location on the map.
This feature provides an overview of your devices' approximate locations, giving you a clear visual representation of their whereabouts.


Step 3: Add a Location
Press the "Add Location" button to manually add a specific location to the map.
In the prompted window, assign a name and description to the location.
Enter the specific longitude and altitude coordinates for precise mapping.


Step 4: Assign Devices to Locations
After creating the location, you can assign Consibio devices to it. You do it by navigating to the "Devices" tap, selecting the Consibio device and choosing the newly created location from the "Location" button.
By associating devices with specific locations, you gain the ability to monitor their movements and position changes over time.


Advantages of Using the Locations Tab:
Real-time Device Monitoring: The map view allows you to see the approximate real-time locations of your devices, giving you valuable insights into their current positions and activities.


Efficient Device Management: With the ability to assign devices to specific locations, you can easily organize and manage your device fleet, streamlining your IoT project's workflow.


Location Tracking: By monitoring device movements, you can identify any deviations from assigned locations. If a device appears to be moving away from its designated spot, it could indicate potential issues or unauthorized movement.
By following this step-by-step guide, you can leverage the Locations tab to efficiently visualize and manage device locations on a map. Stay informed and gain valuable geographical insights for your IoT projects with Consibio Cloud!