If you want to change the batteries inside your equipment, this is the guide to follow.
Please note that Consibio recommends using the power supply to recharge the batteries.
Step 1: Open the Rugged Case and retrieve the Logger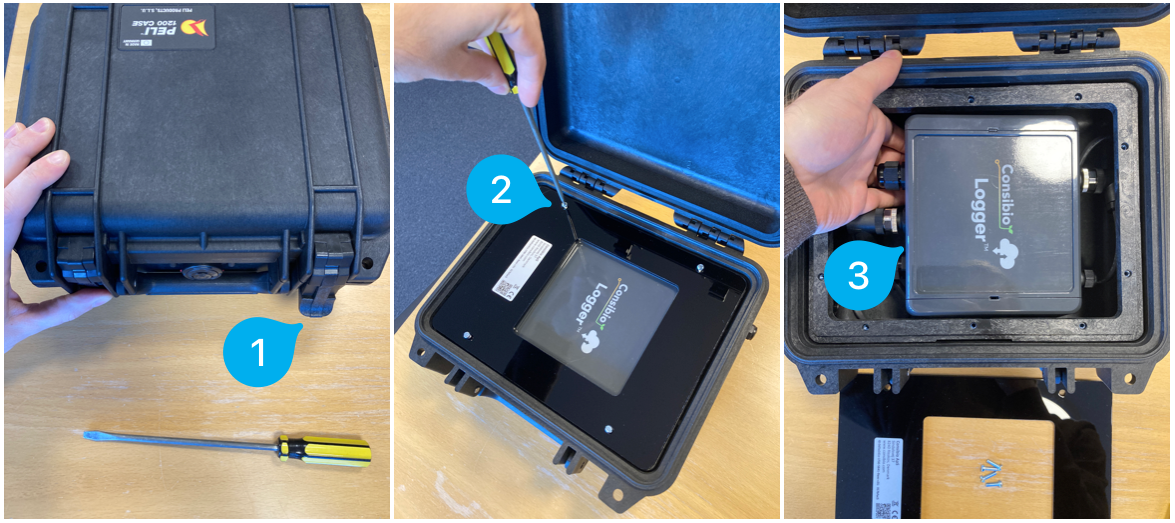 Open the hinges on the Rugged Case (1)
Once opened, unscrew the four screw from the acrylic mounting panel. Place the screws and panel to the side. (2)
The Logger is attached with velcro inside the Rugged Case. Lift up the Logger from underneath and place it perpendicular to the Rugged Case (see Step 2). There is no need to unmount the internal cables. (3)
Step 2: Open the Logger w. flat screwdriver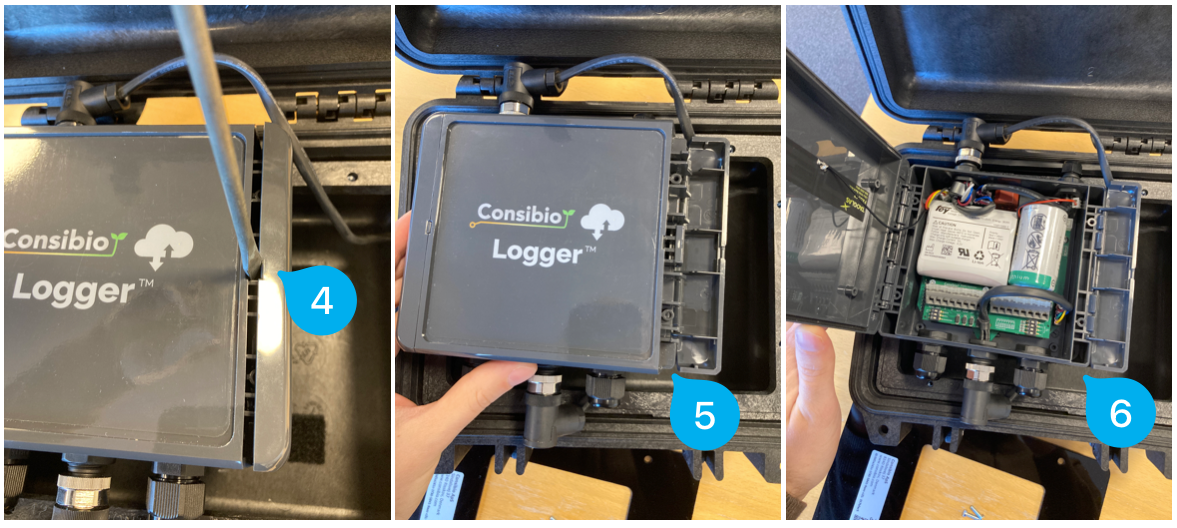 Take a flat-head screwdriver and insert it gently in the small indentation on the right side. Twist the screwdriver 90° while pressing down gently. (4)
The hinge of the lid should pop up in an intermediate position (5)
Open the hinged lid can now be opened, gently. (6)
Step 3: Pullout old and insert new batteries
There are two batteries inside a Logger, both attached with velcro to the electronics (PCB).
A rectangular, rechargeable battery, placed to the left inside the Logger
A cylindrical back-up battery, placed to the right inside the Logger
This guide assumes that both batteries need replacement, but the rechargeable battery does not need to replaced after drainage, only recharged, unless otherwise damaged.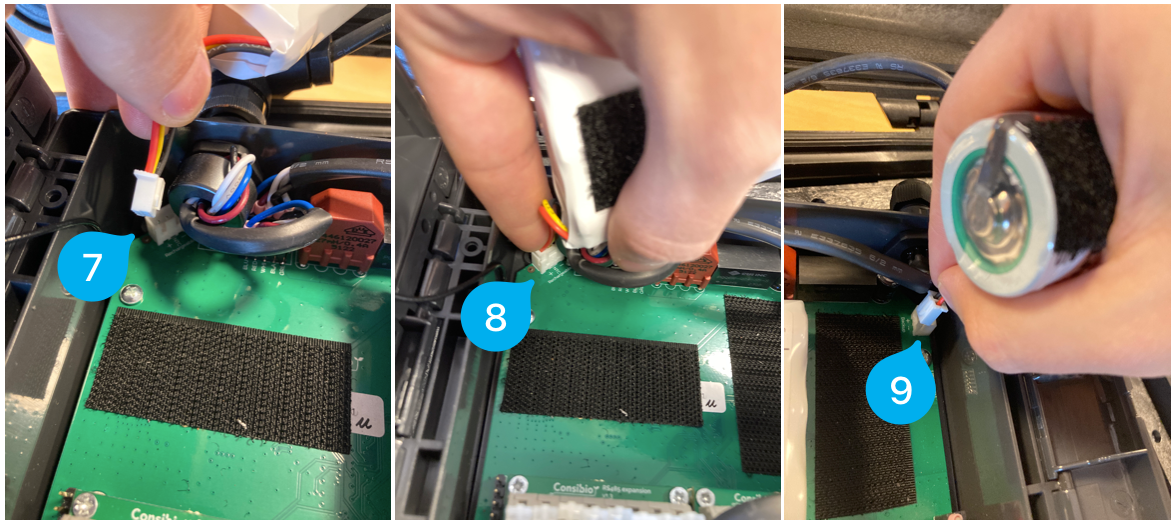 Unplug the rectangular battery by lifting the battery up from velcro. (7)
Pinch around the white plastic connector (7) and gently lift the battery connector up from the PCB. Please ensure that you do not pull extensively, as this can potentially ruin the battery cables.
Insert the new battery in the now free battery connector by gently pushing the male plastic connector into the female part on the circuit board (8).
Once in place, attach the battery to the velcro to ensure the battery isn't hanging loosely inside the Logger (8)
Repeat the process for the cylindrical battery if needed (7+8). The battery connector is placed on the top right side of the circuit board (9).
Please dispose any old batteries according to the guidelines in your region / country.
Step 4: Close Logger and Rugged Case
The batteries have now been replaced and reinserted into your logger. The last step is simply Step 2+1 in reverse, where the Logger is reinserted back into the Rugged Case and the Rugged Case is closed.

Close the hinged Logger lid completely and align the velcro on the back side of the Logger with the velcro inside the Rugged Case. Press down the Logger firmly on the velcro to ensure the Logger won't move once inside the Rugged Case (10)
Place the acrylic panel and re-screw the screws back into place. (11)
Close the Rugged Case hinges entirely (12)